General Description and Utilization
Hen Egg Yolk with 11% salt is pasteurized and is      specially developed for applications as glazing agent in bakery products, sauces, wafers and mayonnaise
[one_fourth]
Packing, Storage and Shelf Life
Packed in 25kgs bucket or carton  with  plastic inner bag. At a temperature of -18C . this product has shelf life of 3 years.
[/one_fourth]
[one_fourth_last]
Batch Number
Explanations 1312.527

     1    =    Year
312    =    Date of production
527    =    Internal code
[/one_fourth_last]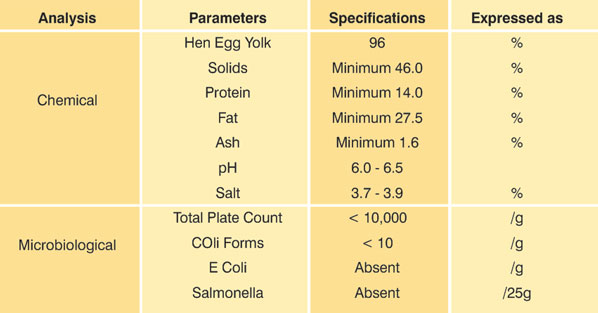 [one_half]
Quality guarantee
Eggway products comply with the quality standards required by Export Inspection Agency (EIA), (Government of India) and the new EU hygiene directives for egg products and also stringent requirements such as USDA.

[/one_half]